Version:

2.1a BETA


Size:

122kb






What's new
The new version includes the following features:
- Full Drag & Drop support, see info for full explanation.
- Stores last 15 text entries to pass through the clipboard.
- Entries are now stored in a text file, therefore no size limit on individual entries.
- Added 'Always On Top' option to float above other windows.
- Added Search feature making it easy to find entries.
- Hotkey to access the Populist Menu from anywhere.
- Restored 'Save On Exit' option, now detects Windows shut down and saves if set.

Information
Populist is a clipboard utility designed to save time when using any program that requires entering text.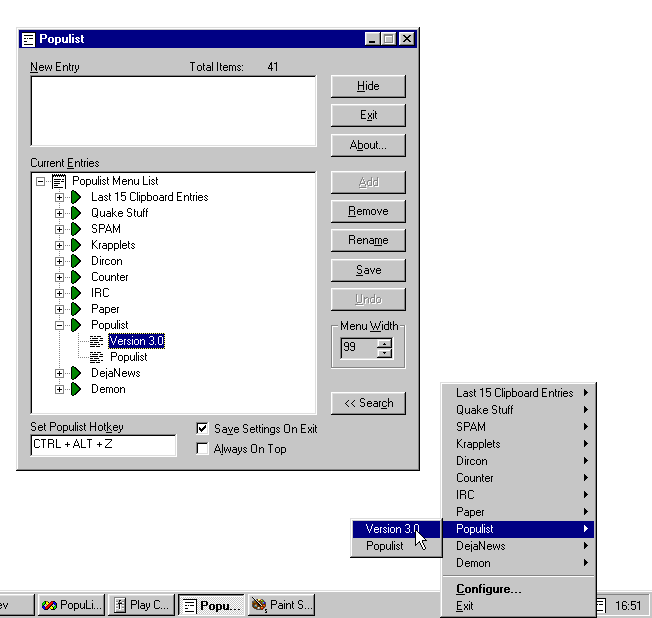 - As the screen shot shows all text entries are easily accessible from the System Tray.
- They can be sorted into categories for different programs.
- Once clicked an entry is copied into the clipboard and can then be pasted into any program.

- However, Populist is even easier to use than that if you are using it with a program that supports 'Drag & Drop'.
The following series of images show how easy it is to use drag and drop with Populist.

1. The first screenshot shows the data that is to be dragged.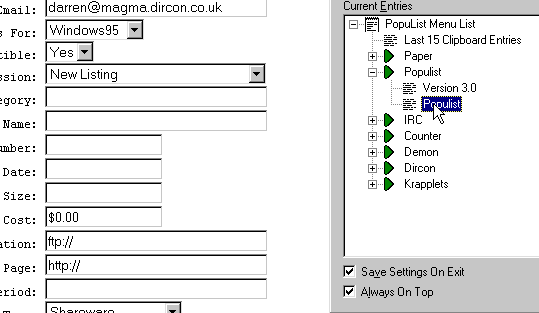 2. Next, click and drag the entry to the required drop point. My screen capture program 'lost' the drag symbol
so, I drew one in afterwards.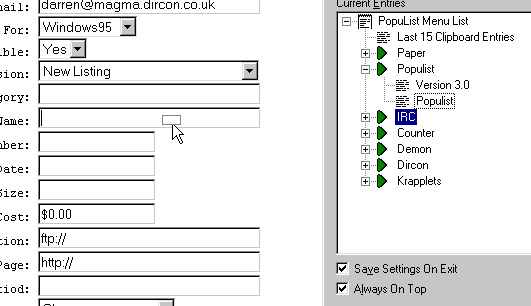 3. When the mouse is over the correct spot, let go of the button and your text appears.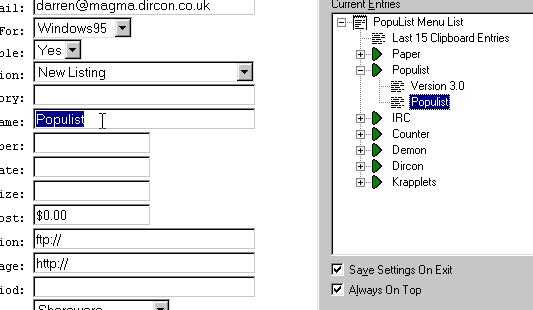 - Many programs support drag and drop including Internet Explorer and Netscape, Office applications, Wordpad, and many others.
- Populist can still be used with non drag and drop programs by utilising the quick access system tray clipboard entries.
- As Populist stores the last 15 text entries that passed through the clipboard it is a simple matter to copy up to
15 entries to the clipboard and then drag and drop them from within Populist to make them permanent entries.

- It's quite easy to rely on Populist to store data from any kind of program.
As the amount of data grows though, finding anything is not a problem with Populist's integrated fast search feature.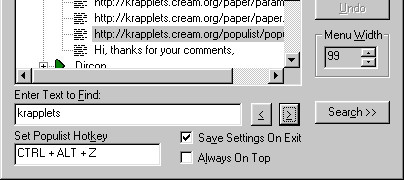 Populist can search through all your entries in either direction.

- For complete information, read the Readme file.

Download
Download Populist version 2.1a BETA here (122kb)

History


1.0 (06/97) First release.

2.0 (08/97) Now checks if already running and if so brings it to the foreground and quits.

Uses a Tree Control to allow sub menu entries.
Removed 'Save Entries on Exit' as it didn't detect Shut down of Windows correctly.


2.1a BETA (08/98)

Full Drag & Drop support.
Stores last 15 text entries to pass through the clipboard.
Entries are now stored in a text file, therefore no size limit on individual entries.
Added 'Always On Top' option to float above other windows.
Added Search feature making it easy to find entries.
Hotkey to access the Populist Menu from anywhere in Windows.
Added 'Save On Exit' option, now detects Windows shut down and saves if set.




Last updated: Saturday, 13-Nov-1999 17:50:24 GMT