Version:

1.1


Size:

75kb






Information
Parameteriser is a simple utility to add command-line paramters to any program in Explorer.
It associates itself with the following program extensions, .exe, .com, .bat.
To use, simply right-click any program in Explorer.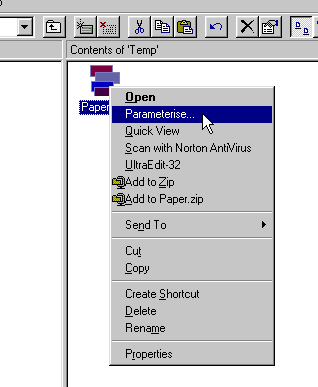 Choose the 'Parameterise...' option and you will see the main dialog.




Then enter your command-line parameters.




The click OK and the program is launched with those parameters.
Parameteriser will also remember your previous 10 entries.




Parameters requires Administrator Rights on Windows NT4 due to it's use of the Registry.
It also includes a full install and uninstall script.

For complete information, read the Readme file.

Download
Download Parameteriser version 1.1 here (75kb)

History


1.0 (10/96) First release.

1.1 (08/97) Added support for .com files also




Last updated: Saturday, 13-Nov-1999 17:50:21 GMT